Alicja Zielińska-Eisen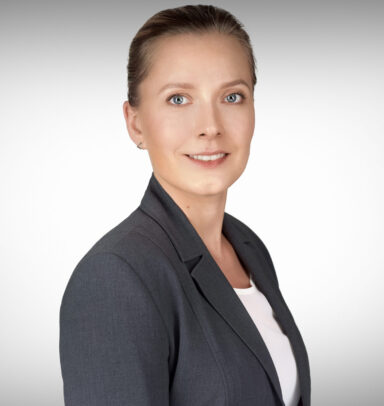 Achievements
Laureate of the 2016 Rising Star Lawyers–Leaders of Tomorrow, organised by Wolter Kluwers
and Dziennik Gazeta Prawna
Overview
Alicja Zielińska-Eisen is Of Counsel with Queritius and an advocate (adwokat) admitted to practice in Poland. She focuses on commercial matters, private international law, and international arbitration, as well as court proceedings supporting arbitration and post-arbitration proceedings. Alicja has deep knowledge of international investment law and arbitration, having represented states and private investors alike. She acts as an arbitrator and tribunal secretary and has experience working under a variety of arbitration rules, including UNCITRAL, ICC, DIS, SCC, Lewiatan Court of Arbitration, and the Court of Arbitration at the Polish Chamber of Commerce (SA KIG).
In parallel, she is a Lecturer and Academic Coordinator for International Dispute Resolution (IDR) LL.M. at Humboldt Universität zu Berlin in Germany.
Alicja has more than 10 years of experience working for a Magic Circle law firm where she was a member of the global dispute resolution team.
Alicja is involved in diverse initiatives for legal professionals and regularly speaks at seminars and conferences on negotiation, international arbitration, and other ADR subjects, including engagements in Warsaw, Berlin, Paris, Riga, Vienna, Copenhagen, and Hong Kong.
She holds an LL.M. in International Dispute Resolution from Humboldt Universität zu Berlin, as well as a postgraduate diploma in Negotiation, Mediation, and other ADR awarded by the University of Warsaw, Centre for Dispute and Conflict Resolution. Alicja is a member of the Arbitration Commission of ICC Poland and acts as the ICC YAF Representative for Europe.
Load more
Arbitration
Litigation
Publications
Education