International Economic Sanctions and International Disputes Settlement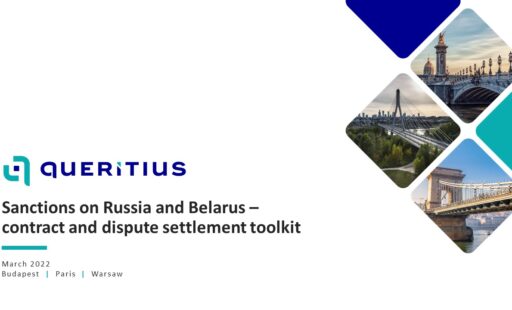 17. 03. 2022
International economic sanctions are the primary mechanism of international pressure that does not require the use of military force. However, from the perspective of the sanctioned business entities it raises multiple legal challenges.
As soon as sanctions are adopted, extensive compliance obligations are imposed on companies, their financial institutions and their advisors. As a result, the need to take, refrain from or neglect certain actions can give rise to legal disputes: with business partners, with intermediaries and transaction advisors, or with public administrations of the relevant countries. Sanctions themselves not only cause disputes, but also complicate their resolution through litigation or arbitration.
To identify key legal challenges at the intersection of international economic sanctions and international disputes, we have prepared three language packages (English, Hungarian and Polish), each containing:

a reader-friendly toolkit summarizing the most relevant issues in the context of sanctions currently imposed on Russia and Belarus,

a comprehensive report on international sanctions

These materials present essential actions businesses should consider in order to better manage their sanctions compliance. We hope you find this useful!