Marcin J. Menkes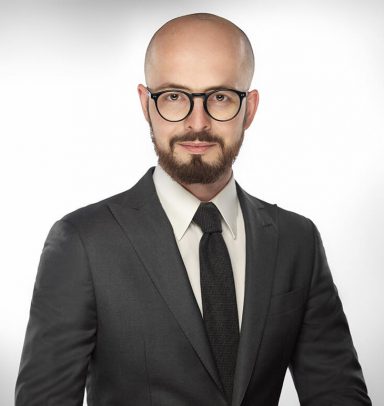 Achievements
Visiting fellow at the
Lauterpacht Centre for
International Law (Cambridge
University, UK).
Visiting fellow at Cornell Law
School (USA).
Visiting researcher/lecturer at
Università di Torino, Università
degli Studi di Firenze,
Università di Bologna (Italy).
Languages
English
French
Polish
Italian
Spanish (limited)
Overview
Prof. Marcin J. Menkes (Dr hab.) is Of Counsel at Queritius. For more than 10 years, Prof. Menkes has combined his work as a full-time academic with incidental legal and foreign policy advice. His professional interests include investment arbitration, international monetary and financial matters, sovereign debt restructuring, sovereign immunities, and economic sanctions. Prof. Menkes has published four books, more than 100 scientific articles, and more than 1,000 blog posts, newspaper articles, etc. He regularly appears at international conferences and in public media.
He is a professor at the Warsaw School of Economics (SGH), where he also founded the post-graduate studies Law & Economics of the Capital Market and Law & Economics for In-house Counsels. He was appointed visiting fellowships at some of the best universities in France, Italy, the United Kingdom, and the United States.
Prof. Menkes is a member of numerous professional organisations, including the International Law Association Committee on the Rule of Law in International Investment Law, and the Investor-States Dispute Settlement Academic Forum. As part of his civic activity, he founded and co-manages the International Law Review blog (Poland), and serves as a judge in moot court competitions.
The quality of his work has been repeatedly recognised with awards of prestigious research scholarships.
Load more
Monographs, Commentary, Manual (in Polish)
Introduction to International Economic Law (co-author), CH Beck, Warsaw 2016.
Economic Governance in Public International Law, CH Beck, Warsaw 2016.
State Immunity from Jurisdiction and Execution. A Commentary to the UN Convention on Jurisdictional Immunities of States and Their Property and European Convention on State Immunity, Oficyna Wydawnicza SGH, Warsaw 2013.
Economic sanctions—international law analysis, Dom Wydawniczy Duet, Toruń 2011.
Recent publications (in English)
Monetary Transfer Provisions in International Investment Law and the Rule of Law [in:] A. Reinisch, S. Schill (eds.), Investment Protection Standards and the Rule of Law (OUP forthcoming).
Screening of Foreign Investments: Promises and Perils of New Technologies [in:] C. Nagy (ed.), World trade and local public interest: trade liberalization and national regulatory sovereignty, Springer (due in May 2020).
La Bocca della Verità: Transparency in International Investment Law and Normative Ethics [in:] E. Baroncini, M. Trunk-Fedorova (eds.), Transparency vs Confidentiality in International Economic Law: Looking for an Appropriate Balance, Edward Elgar (due in 2020).
Rule of Law in International Monetary and Financial Law: Reviving Old Spectres, European Yearbook of International Economic Law 2019.
Financial Sector, Sovereign Debt Restructuring and the Rule of Law, Zeitschrift für Europarechtliche Studien 3(22)/2019, pp. 407-428.
The Legality of US Investment Sanctions on Iran: Challenges and Opportunities for Pax Americana without the US, Canadian Yearbook of International Law vol. 56(2019), pp. 328-364.
Hybrid Recognition of Monetary and Financial Sovereignty. Or is it? [in:] W. Czapliński, A. Kleczkowska (eds.), Unrecognized subjects in international law", Scholar, Warsaw 2019, pp. 371-391 (co-author).
Legality of the EU Trade Sanctions Imposed on the Russian Federation under WTO Law [in:] W. Czaplinski, S. Debski, R. Tarnogorski, K. Wierczynska (eds.), The Case of Crimea's Annexation under International Law, Scholar, Warsaw: 2017 (co-author).
Requiem for Transparency, European Investment Law and Arbitration Review vol. 2(2017).
Regulatory Cooperation Under TTIP. If You Can Read This, You're Too Close [in:] E..Czarny, A. Kuźniar, J. Menkes (eds.), The Impact of the Transatlantic Trade and Investment Partnership on International Cooperation. Peter Lang 2017, ss. 55-64.
Load more
Habilitation (Dr hab.) in law, Jagiellonian University, 2018
Ph.D. in law, Jagiellonian University, 2011
---
Ph.D. studies in economics, Warsaw School of Economics, 2011
M.A. in law, University of Warsaw, 2008
Load more